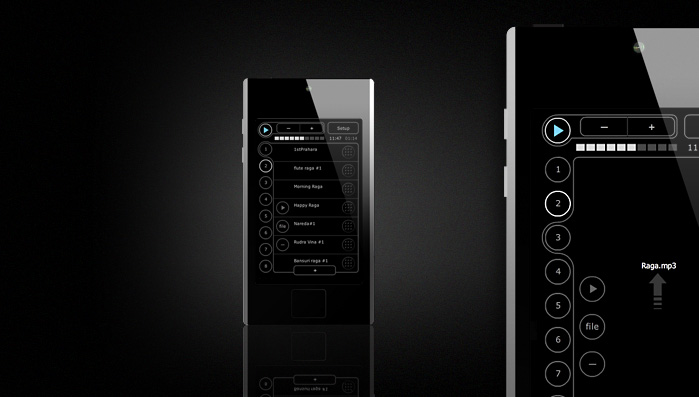 Realtime
In the backend of the RagaPlayer our Ayurveda Sundial → does its job and calculates the 8 periods (praharas). Because of the solar time it is assured, that a morning raga in fact starts to play at the beginning of the day – our »normal« time can deviate from the factual solar time immensely:
Morning: up to ca. 5h, Midday: up to ca. 3h, Evening: up to ca. 5h
In western Europe, deviations in summer could be as follows: Morning: ca. ± 0h, Midday: ca. 2h, Evening: ca. 4h.
Astonishing – but that's what happens when a rigid system (time zone time) meets a very dynamic (solar time). Considering these values, every time-based therapy, science or lifestyle comes under question.
See also: The Sundial Simulator →

Raga
The Raga → or Rag (Hindi: राग, rāg; Sanskrit: रागः) forms the melodic structure of the inidan mucic. It creates a »sound personality« witch is often assigned to a special day time or situation (e. g. season) and according to the emotional quality of that moment.
Here → you can buy Ragas on the web

Player
THe mp3 player plays ragas of the active period. This praharas are caculated by the Ayurveda Sundial and they are the timer of the playlist actions. Ragas of specific day time periodes you find on the web (CDs or download). One source is the page Maharishi Ayurveda Products →. If you want to google for Ragas use the search terms: »Gandharva Music«, ,»Gandharva Veda«, »Raga Music«, »Raga time« and »Raga Prahara«, »Raga mp3« or similar.


Since early 2018 until further notice no longer available. Read more …

Features
Drag and drop interface
Selectable Prahara structures
Seperate volume control
»Clockwork« of the Ayurveda Sundial
Devices
Android Smart phones (display min. 320 x 480 px, portrait)
Hardware Requirements
GPS recommended (alternative: position input via internet or manually)
Internet connection recommended (alternative: GPS or manually position input)
System Requirements
Google Android™ version 2.2 or higher with Adobe AIR (min. vers. 2.7)
Application limitations
The solar time engeine is not applicable north of the +65th latitude (polar region) or south of the –65th latitude (polar region). In this cases the app switching to time zone time.


Data Privacy Protection
GPS data does not leave the Application and will not and can not be used to scan your position from outside. You keep full control.
An internet connection will only be established by the MapQuest OpenStreetMap Nominatim Service when you search for locations – comparable with a usual search engine request in your browser. Nothing else then your IP and the relevant search parameters should be transmitted. A request will never happen automatically. You keep full control.
You are able to force the App to keep awake (interface option inside the app). You keep full control.

Download the App
Android version on Google Play →
Android version on AndroidPit →
Screens/Video
Note: In Maharishi Ayurveda the Praharas have a one hour offset (7 to 10, 10 to 13, etc.).