Overview
this is a temporary tutorial page.
Phone settings (importend)
You need to activate/change the following Settings to make the App work properly:
1) Set up your local Timezone according to your DST/Summertime
2) Set the DST/Summertime change on auto
3) Allow the App to use GPS – if you want to use it for location determination.
Don't worry, the App does not transmit any location data to third parties.
The MapQuest OSM search option is currently not functioning anymore because of policy changes by google.
We have to change the request-protocol in the next upgrade.


General questions …
… and answers you'll find on our FAQ page →
Setup the Sundial with GPS
Setup the Sundial with MapQuest OSM search option
Because of policy changes by google this option is currently not functioning anymore!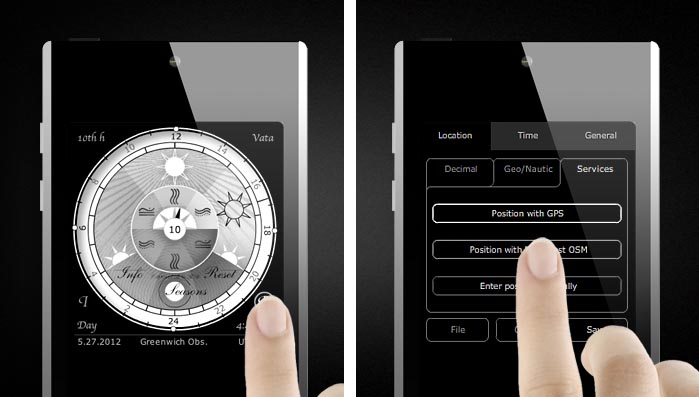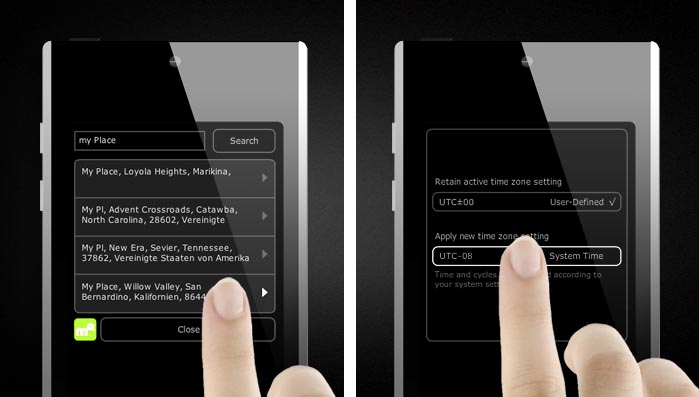 To specify your search enter more informations e. g.: "town, region, state, country" or "town, country" etc.
Setup the Sundial manually
if you have no GPS or your device is not connected to the internet:
Open the Interface → Press [ R ] or [ Reset/Set ].
Press [ Enter position manually ] → now you are in section | Location | → | Decimal |.
Then go to Google Maps in you desktop browser → search for your location → press the right mouse button near by the place → you'll get a context menu → choose "What is here" → your coordinates will apear in the search field.
Now go back to your Sundial and insert your coodinates into the Latitude and Longitude fields (section Location/Decimal).
Overwrite "Greenwich Observatory" with your location name.
Go to section | Time | → | Timezone | → and press/choose [ System Time √ ].
At last press [ Save ].
Hidden Buttons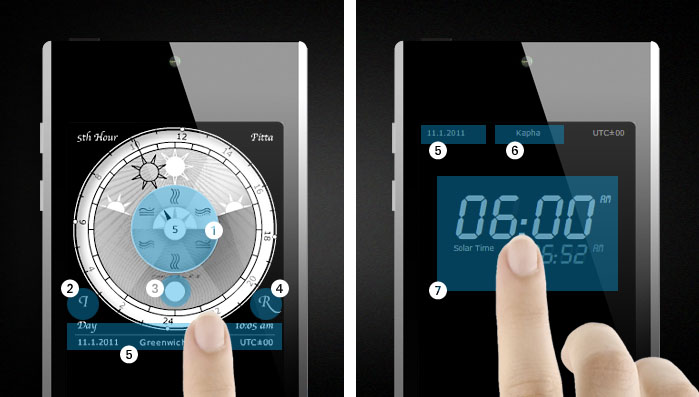 (1) Show/hide button info. (2) Open information interface. (3) iOs: open Year Mantra, Android: Exit. (4) Open interface, Reset/Set. (5) Open Year Mantra. (6) Open alert interface section directly. (7) Show/hide main buttons.
Open the Year Mantra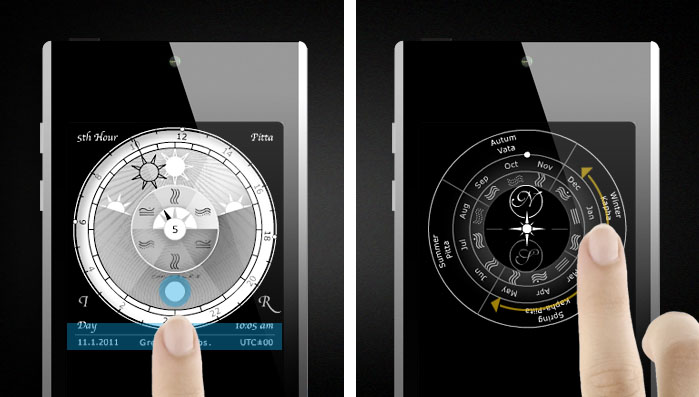 On Android the Moon-Button is an Exit-/Quit-Button. In all Minimal layouts you open the Mantra by touching in the upper left corner. If you are living on southern hemisphere you should press the [s]-Button inside the Mantra.
A stationary Ayurveda Sundial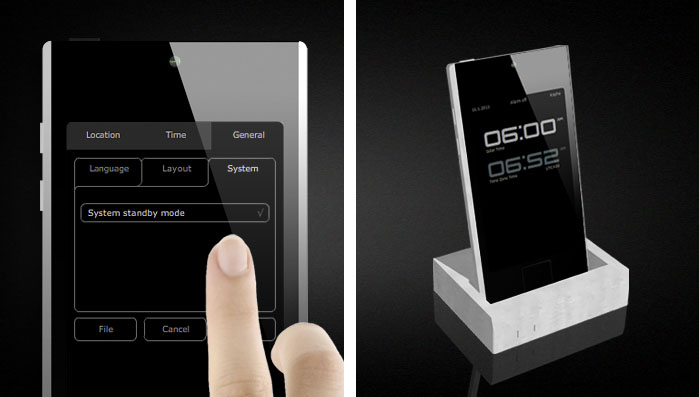 If you prefer your Sundial to be permanent visible you have to turn off the stand by mode (no dimming, no lock screen). The best combination in that case is a iPod Touch or a Android media player in a docking station →.
The alternativ could be an Architectural Installation →
Alarm function #1
The alarm function only works when the Ayurveda Sundial is activ respectively in front.
Currently, it does not work in sleep mode (see also: A stationary Ayurveda Sundial → above).
Vers. 1.2.0 will work in background modes on iOS and Android!
A setup guide will follow soon.
Twilight Phases